Light & heavy towing, vehicle recovery, air cushioned recovery, environmental spill clean-up, tilt & load transportation, and if you want the full and evolving list – give us a call! We have the equipment to get it done right. Fully equipped for the heaviest and lightest loads, Currie Heavy Towing has trucks located throughout Simcoe County and beyond. Equipment to move up to 75 tonnes, the largest you will find in Ontario.
Environment Spills
Recovery & Clean-up
Fork Lifts/ Grapples
Wide Loads
Tilt & Load Specialists – moving heavy equipment, construction tools, industrial freight.
We've Got you Covered…
No matter what you need, Currie Heavy Towing has the equipment, the skills and resources to respond immediately. With over 60 years of experience, we'll be there 24 hours a day for any emergency. Our dispatch staff will get you the help you need exactly when you need it. Our commitment to our customers is unmatched in the industry.
Our 40,000 square foot facility located in Barrie is equipped to handle everything.
Call our central dispatch and our expert staff will be on site as quickly as possible. Modern and reliable trucks and our skilled operators give you dependability.
Handle your investment with care, call Currie Heavy Towing.
Call 24/7 – 866-467-8825 or 705-721-1292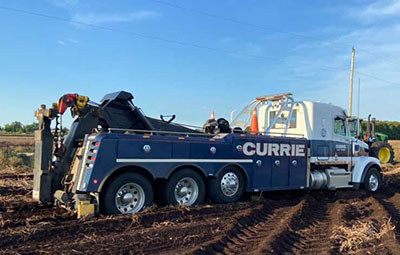 Established in 1949 Alex Currie had visions of a business that would provide a professional service.
Our company maintains a modern fleet of heavy towing, floating and recovery equipment.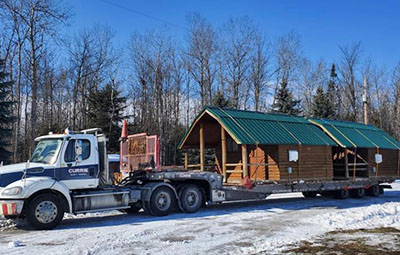 The equipment is manned by a roster of experienced, certified trained operators at all times.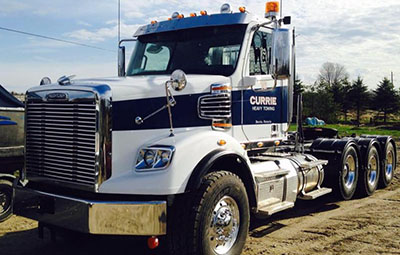 This combination of manpower and equipment is dedicated to serving you anytime, anywhere.
Our success is our staff…Currie Heavy Towing accredits its success to teamwork, experience, training and dedication to professionalism. For Over 60 years, our family business remains an industry leader. Our organization is constantly evolving with our modern fleet of specialized equipment to meet the needs of our customers – 24/7.
Getting the job done right!
Currie Heavy Towing
2 Currie Dr, PO Box # 20150
Barrie, ON L4M 6E9
Call our central dispatch & our expert staff will be on site as quickly as possible.
EMAIL
866-467-8825
705-721-1292
Fax: 705-721-9395